AYR PHOENIX FOLK CLUB

AYR EX-SERVICES CLUB

Academy Street Ayr

Concert Night

Tuesday 

7.00 for 7.30 pm Finishes 10.30pm

 

 

Door Entry £9

Phone 01292 263537 to reserve

 
Previous Club Nights
Tuesday 5th Feb 2019
The legendary Alastair McDonald made a return visit to open the club in 2019. A fabulous night of professionalism in song, storytelling and guitar/banjo self-accompaniment . An ever true and considerate supporter of folk clubs is Alastair.
Tuesday 6th Dec 2018
Gavin and Claire are a husband and wife duo from Glasgow. A  beautiful blend of harmonies and skilful playing. Add to that their sense of enjoyment and good humour and it was always sure to be a great night. They did not disappoint
Tuesday 6 Nov 2018
Alan Reid and his ever supportive Craigie Chancers have become great regular  performance ensemble  visitors to our club,  turning on a superb eclectic group and virtuoso night to be remembered. Alan's  infrequently  performed " Only a Boy" is still being talked about as the song of the night.
Tuesday 5 Nov 2018
Barbara Dymock & Chris Marra, exquisite performance duo.
Tuesday  2 Oct 2018
Late Bloomers & David Rankin did not disappoint exceeding all expectations. Great audience appreciation feedback
Tuesday 5 June 2018
A full house night to  remember  with Adam McNaughtan and Ellen & Kevin Mitchell. They don't get better!
Tuesday 1 May 2018
An outstanding night of close harmony, great instrumentation and tremendous banter from Stephen and Pernille Quigg, ably supported by the Craigie Chancers. This is the kind of entertainment that any folk club would be delighted by.
Tuesday 3 April 2018
What an absolutely magic night of quality musical talent Ayr Phoenix Folk Club has just experienced with our April  headline guests Pauline Alexander and Sandy Stanage, the perfect duo;  exquisite  guitar accompaniment perfectly supporting one of the finest female voices on our folk music scene. Superb support from our old friends Tanninzie as well. Folk club nights don't get any better. 
Tuesday 6 March 2018
The fantastic Stan Graham. Stan provided all that could be expected of such a talented singer songwriter.
Tuesday 6 February 2018
A fabulous chorus singing night with the talented and entertaining Ian Walker Band. A highlight of the evening was when Ian invited our local audience members of the Eurydice Singers to join onstage for a memorable rendition of 'Hawks and Eagles. Good  proactive feedback from audience on a great club night
Tuesday 7 November 2017
To celebrate the first anniversary of Ayr Phoenix Folk Club, we held a Singers' Night. Our wonderful floor singers rose to the occasion as always!
Tuesday 4 October 2017
We're struggling not to use too many superlatives to describe the headline performance from the amazing Friel Sisters, supported by their truly gifted guitarist Tajime Takahashi. We experienced our first ever Japanese song, and it was a delight. It was, quite simply, a superlative performance of traditional music. If you missed it, you missed out. Look out for these performers, go to their shows, buy their CDs. You'll be glad you did.
Tuesday 5 September 2017
A fantastic opener for the new season, with a double bill: Bob Stewart and Heather Heywood. As always, our headline acts were very ably supported by our floor singers. We're in the very fortunate position of having such a wealth of local talent to call on.
Tuesday 13 June 2017
Our Singers' Night closing our first session as a folk club exceeded all expectations. We had a packed programme with eclectic content and fabulous talent. What a night! Sincere thanks to all who contributed and attended.
Tuesday 2 May 2017
We had a wonderful club night, with Tanninzie headlining. We've heard them a few times now, and they were absolutely on top form. They skilfully blend traditional favourites with their own arrangements of modern songs, complex instrumentation and close a capella harmony. This all sounds very serious, but the craic was tremendous as well. Fantastic!
Tuesday 4 April 2017
Belfast singer songwriter Gerry Creen.
Tuesday 7 March 2017
A double bill headlining: Legacy and Sean & Robyn Gray. Once again the club night was very busy, and there was a tremendous buzz about the place.  All of the performers were on peak form!
Tuesday 7 February 2017
No headline performer, because this free night was dedicated entirely to our wonderful floor singers!  This was a performance opportunity for the tremendous experienced and aspiring talent in and around Ayrshire. A night for those the club can't always offer floor spots supporting a headliner guest concert.  It was a rousing success, to say the least.  It was the first time behind a mic for some of our singers, and they certainly rose to the occasion.
---
Tuesday 6 December 2016
What a night! The headline performer was the legendary Alastair McDonald.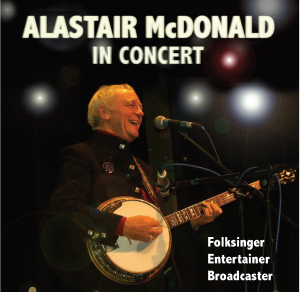 Listen to Alastair singing a beautiful acoustic version of Loch Lomond
---
Tuesday 1 November 2016
The opening session of the Ayr Phoenix Folk Club was fantastic.  We had a full house, and outstanding performances from Ian & Fraser Bruce, Margaret Millar, Taninzie and New Legacy.  If you were unlucky enough to have missed it, don't miss the next one!