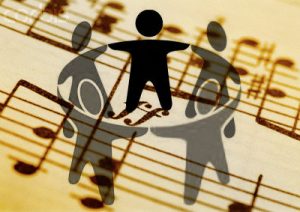 Phoenix Musical Hearts & Minds is enthusiastically supported by South Ayrshire Dementia Support Association (SADSA) whose day centres operate in Ayr and Prestwick. 
 Ayr Phoenix Folk Club reaches out whenever it can to provide reminiscent music therapy entertainment at Dementia/Alzheimer's day centre locations. Enquiries to: info@ayrphoenix.co.uk
Phoenix Musical Hearts & Minds provides interactive entertainment on the first Monday afternoon of every month in the Ayr Ex-Services Club from 2.00 pm until 3.30 pm for Alzheimer's/dementia/multiple sclerosis patients together with their  family and carers. There is a nominal £1 per person donation charge.
Singing has been shown to have a highly beneficial impact for people with dementia, both in terms of mental stimulation and social interaction. Alzheimer Scotland operates several singing groups for people with dementia, their carers and their families, all over the country. Phoenix will employ the tried and tested Musical Minds model already in use in Ayrshire  and reflected in this Edinburgh performance.