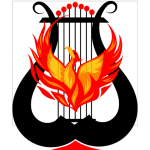 Ayr Phoenix Folk Club is a new and exciting venue for all of us in Ayrshire and beyond who enjoy traditional/folk/acoustic music.
The Club is hosted at the highly accessible Ayr town centre venue Ayr Ex-Services Club, 15 Academy St, Ayr KA7 1HF.  See our Contact Us page for directions.
Our next Folk Club night features the fantastic Oakum Row on Tuesday 5 December 2017. At the Ayr Ex-Services Club, 15 Academy St, Ayr KA7 1HF. See our What's On page for details.
If you're looking for a supportive and welcoming acoustic jam session, check out the Phoenix Jam every Saturday afternoon. Any instrument, any style, any ability. If you don't want to play or sing, just come along and listen. All welcome, and it's free!
Phoenix Musical Hearts & Minds is a music therapy Alzheimer's/dementia/multiple sclerosis support offshoot of Ayr Phoenix Folk Club. A tried and tested interactive musical entertainment model will be operating at Ayr Ex-Services on the first Monday of every month 2.00 pm to 3.30 pm. There is a nominal £1 per person donation charge. Please note the amended start and finish times from Monday 5 June 2017.
Join our Facebook group and follow @ayrphoenix on Twitter for the latest updates.
There's a little piece of historical information here about the original Ayr Folk Club in the 1970's.  We've been contacted By someone who attended the original club, who said: "the original folk club was in Loudoun Hall. It was run by George McEwan from Maybole. He wrote Connolly's Welly Boot song. First saw Hamish, McGinn, The Humblebums and many of the worthies of the Scottish folk scene there."
Can you add any more to it?  Email and let us know.