Folk Club Guest Concert Nights are held on the first Tuesday of each month at 7.00 for 7.30pm. 
Upstairs at The MARKET INN, Ayr.
There is usually an entrance charge, and a night consisting of a guest headline performer supported by floor singers.  
Ayr Phoenix Folk Club Next Guest Concert Night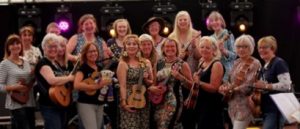 Dalrymple Ukulele Orchestra
Tuesday 5th December 2023   7.30pm
(Doors open 7.00 pm) Pay at door £9 cash only.
D.U.O.'s first 'performance' was in the Tam O' Shanter bar where they were given a standing ovation from a very enthusiastic crowd celebrating the Ayr Races!
Since then, the orchestra has been invited to play at various festivals, concerts, and events, they have even played a bride down the aisle!
Their uplifting story began nine years ago at a New Year's party in Dalrymple when Karen arrived with her new ukulele, chord charts and Christmas songs! Several ladies decided they wanted to learn to play, so practices soon took place round the kitchen table for weeks after.
Over the years, different ladies have been inspired to join them on their crazy ukulele journey, while others have moved on. However, they still have a core of founding members who have faithfully stayed the course and given the orchestra it's unique and wonderful character that brings so much fun to their performances.
Supported by the Club's Stalwart Floor Singers
UPSTAIRS @THE MARKET INN,
2 Castlehill Road, Ayr, KA7 2HT
All Welcome 
Folk Club Concert Nights 2024
09 Jan Sean Gray
Folk Club Guest Concert Nights 2023
05 Dec Dalrymple UKES and Spots
07 Nov Gavin and Clare Livingstone
03 Oct Stan Graham
05 September Alastair McDonald
01 August Floor Singers Unleashed
04 July Davey Hunter and Beatrice
06 Jun Tapsalteerie
02 May Haggerdash
04 April Dougie McKenzie & Bran Miller
07 Mar Pauline Vallance
07 Feb Cafeorchestra
Folk Club Guest Concert Nights 2022
06 Dec Tanninzie
01 Nov Paul Walker & Karen Pfeiffer
A Typical Guest Concert Night at the Market Inn
Audience participation in chorus singing is essential
Get your drink in the Bar downstairs
Upstairs from 7pm pay your admission and buy your raffle tickets
Find a seat (If you reserved seats there will be a reserved card with your name and number of seats on a table)
At 7.30 pm the MC will welcome you to the night's entertainment, update you with any information and maybe sing a song
He will then invite local floorsingers to start the night off
After their essential contribution, the MC will invite the main guest(s) to play their first set
Amid the applause, the MC returns to announce the Intermission and Raffle. with time to get more drinks and raffle tickets
While the raffle winners are feeling delighted with their prizes the MC returns to invite more local floorsingers to start off the second half
The MC re-introduces the main guest(s) to play their second and final set
With rapturous applause, the evening draws to a close with hopefully just enough time for one more song from the guest(s)
The MC thanks everyone for their contribution, wishes all a safe journey home and has one final song "Take your glasses to the Bar"
Exit all with a broad smile